Welcome to

PAWD DRINKS!
At PAWD DRINKS, we're thrilled to introduce our groundbreaking range of liquid health supplements, scientifically crafted to target the common health issues faced by our beloved dogs. Our innovative products are the result of extensive research and development by world-leading animal nutritionists. We have poured our hearts and expertise into creating formulas that not only address these specific health concerns but also contribute to the overall well-being of your furry friends. Our main goal is simple yet profound: to enhance the health and happiness of dogs, thereby enriching the lives they share with their owners. Welcome to a healthier, happier canine world with PAWD DRINKS.
So,
Why Liquid?

Rapid Absorption:
Our liquid extracts assimilate in just 1-4 minutes, unlike pills which take 30-40 minutes just to break down their casing.


Veterinary Recommendation:
In a survey of veterinarians, 95% recommended liquid supplements for dogs, highlighting factors such as bioavailability and ease of administration.


Higher Utilisation:
98% of the nutrients in our liquid extracts are used by a dog's body. In contrast, only about 40% of the nutrients in pill form are utilised.

Gentle and Efficient:
Drinking our supplement is not only easier but also gentler on your dog's body, particularly important for older dogs.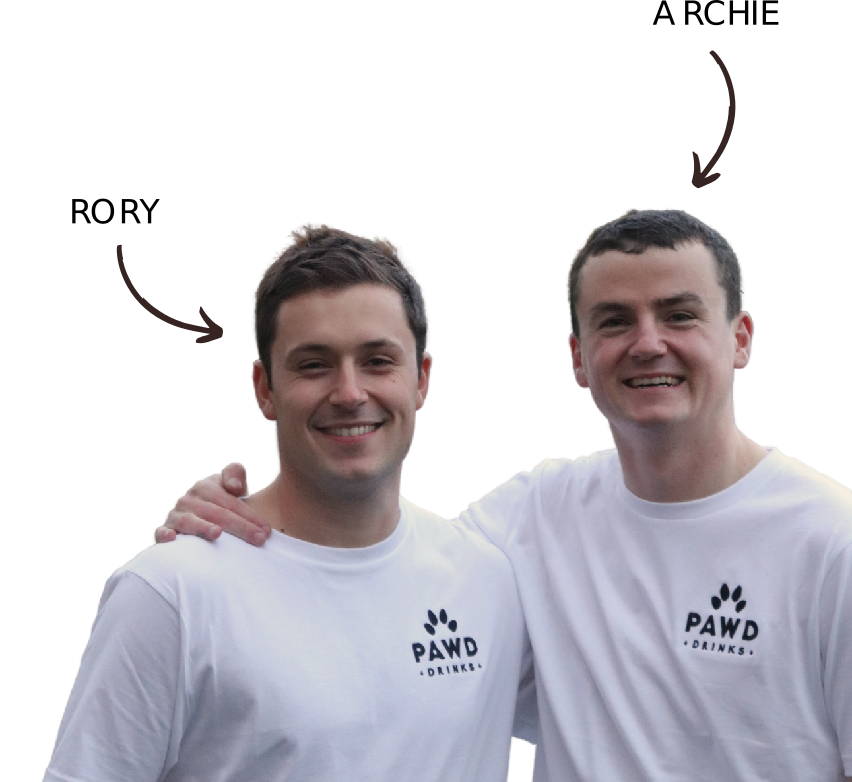 MEET THE Co-Founders
Rory & Archie
Long-time friends, founded PAWD DRINKS out of a shared experience: their much-loved family dogs, Scrumpy and Pickle, faced challenging health issues. Unwilling to rely on costly and extensive pill plans, they created an easy-to-use health supplement to improve dog health. PAWD DRINKS embodies their commitment to ensuring more healthy, happy years for dogs and their owners. Join them in making a difference in the lives of our furry friends.Their mission: to ensure owners can enjoy many more healthy and happy years with their best friend.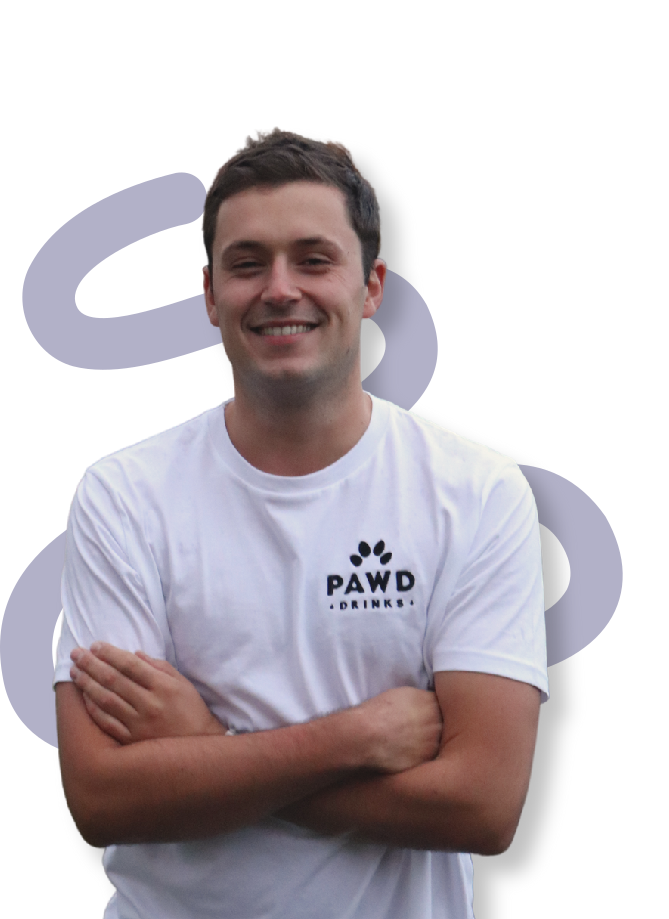 Rory Hanna
What inspired you to start PAWD DRINKS?
My journey with PAWD DRINKS began with my dog, Scrumpy, whose health challenges highlighted the stress and hassle of traditional treatment methods. Motivated to simplify pet care, I developed an easy-to-use, effective health supplement to improve pet well-being, aiming to give owners and their dogs more healthy, happy years together.
Tell us more about Scrumpy?
Scrumpy was something else – a Jack Russell and Patterdale mix with a heart full of play. Lived up to 17. Everyone just loved him. Even in his older years, he kept that spark. He's a big reason why I started PAWD DRINKS.
What are your future aspirations for PAWD DRINKS?
Our mission for PAWD DRINKS remains as it has always been: to offer dog owners an easy-to-administer, easy-to-consume health supplement. We're dedicated to prolonging the happy and healthy years owners spend with their beloved dogs.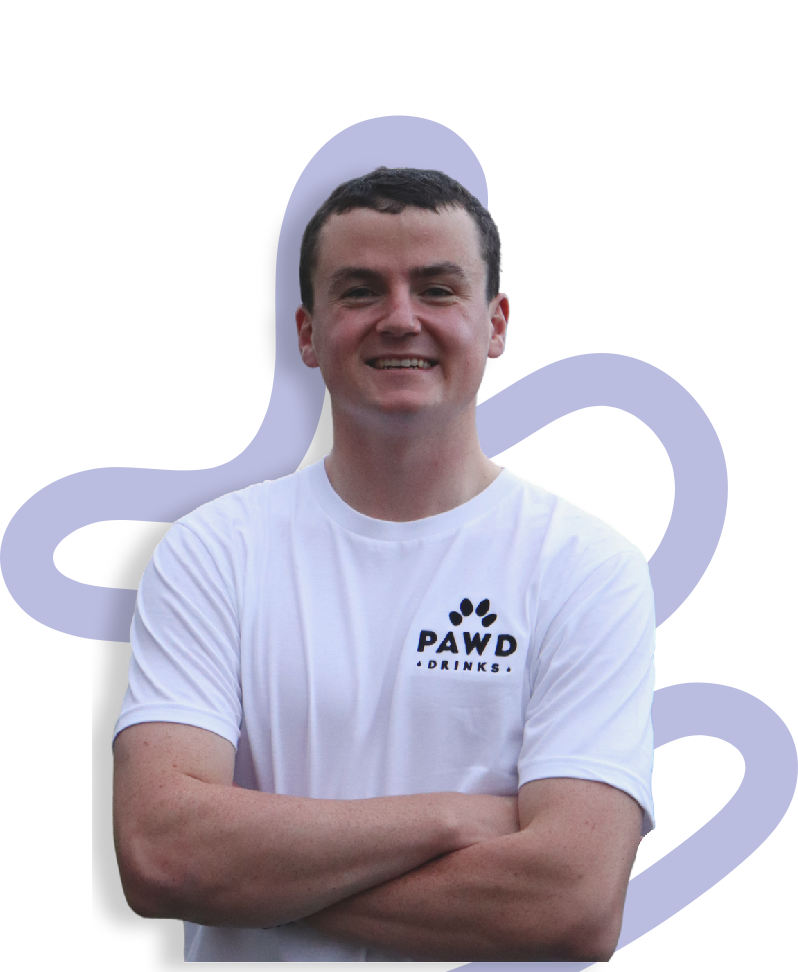 Archie Wilson
What inspired you to start PAWD DRINKS?
I have always had entrepreneurial aspirations but when your best friend asks you if you want to start up a company together, I was immediately interested! What was the start up? Making dogs healthier, for longer…I am in! 
Tell us more about Pickle? 
Pickle was a legendary queen of a dog. To our family, she was: protective of us, moody with us (when we left her!), but the most visibly delighted dog every time we came home! Sadly, Pickle suffered very similar health challenges to Scrumpy in her final few years. She incurred arthritis which dramatically affected her mobility and ended up restricting her when giving us those crazy welcomes! 
What are your future aspirations for PAWD DRINKS?
Simple. To make as many dogs as possible healthier from drinking PAWD.
Stats, Stats,
Stats!
Common health issues in dogs

Approximately 80% of dogs over the age of 8 exhibit some form of arthritis.

Certain large breeds have a genetic predisposition to hip dysplasia, with up to 70% of some breeds like Bulldogs and Pugs being affected.
Studies suggest that up to 70% of dogs exhibit anxiety-related behaviors at some point in their lives.

Approximately 50% of dogs show significant fear or anxiety in response to loud noises like thunderstorms or fireworks.

Health supplementation can reduce the risk of skeletal disorders in all breeds of dogs by up to 30%.

Proper hydration is essential for muscle recovery. Dehydrated dogs can experience delayed recovery times.